Neeraj Chopra wins India's first World Athletics Championships gold.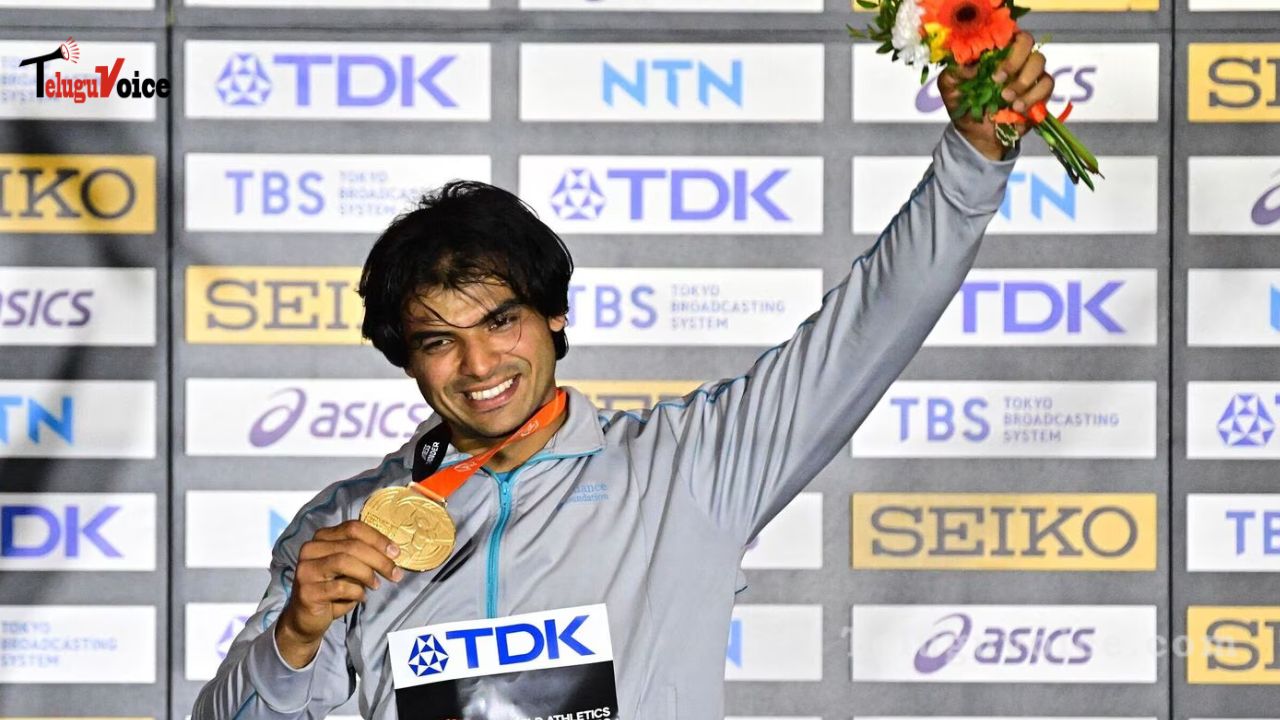 Indian Olympic winner Neeraj Chopra won his country's first World Athletics Championships gold medal in the men's javelin throw final in Budapest on Monday morning, beating Pakistan's Arshad Nadeem by less than a metre.
Neeraj's second throw of 88.17 m was his best and kept him ahead till the conclusion. Nadeem, the Commonwealth Games winner at 87.82 m, won silver. Jakub Vadlejch of the Czech Republic won bronze with an 86.67 m throw. Kishore Jena (84.77 m) placed fifth and DP Manu (84.14 m) sixth.
India now has World Championship medals in all colours. After winning silver last year, Neeraj has won another World Championships medal. Anju Bobby George's 2003 World Championship bronze in the women's long jump was India's last medallist before his two.
Oliver Helander of Finland led the first round with an 83.38 m throw. Neeraj Chopra started poorly with a foul on his first throw. The initial throws of Kishore Jena and DP Manu were 75.70 and 78.44 m. It wasn't enough to place them in the top three. Helander led after the opening round.
Jakub Vadlejch of the Czech Republic led the second round with an 84.18 m throw. Neeraj overcame a slow start to beat Jakub with a monster 88.17 m throw and seize the lead. Second effort by Manu was foul. Jena placed fifth with an 82.82 m second throw. Neeraj led after the second round with 88.17 m.
The third round began with Neeraj throwing 86.32 m, the second-best in the tournament. Maintaining his lead. Pakistan's Commonwealth Games champion Arshad Nadeem rose to second with an 87.82 m throw.
He threw his season-best and was within a metre of Olympic winner Neeraj. Manu placed sixth after three 83.72 m attempts. Jena's third effort was a foul, keeping him sixth. After three tries, Neeraj lead with 88.17.
Jena's fourth effort, 80.19 m, placed him sixth in the fourth round. Manu fouled his fourth try, keeping him sixth. The fourth throw of 84.64 m by Neeraj kept him in the lead. Nadeem nevertheless came close, throwing 87.15 m on the fourth try and the second-best throw overall.
The fourth round of tries ended with Neeraj leading. Jena finished fourth with 84.77 m in his sixth try, one short from a bronze. Nadeem's fifth throw was a foul, ending his first-place ambitions. Neeraj's sixth throw, 87.73 m, maintained him ahead.
However, it was inches away from Nadeem's second-best throw of 87.82 m. Manu ran 83.48 m and Jena 84.77 on their sixth try. Jena was fifth, Manu sixth! The field was headed by Neeraj.
Manu finished sixth with an 84.14 m throw in the final round. Jena fouled and remained fifth. Nadeem missed to beat Neeraj's 88.17 m with his last throw of 81.86 m. Thus, Nadeem won silver and Neeraj won India's first World Championships gold.