MLC Kavitha demands that Modi honor his commitments to Telangana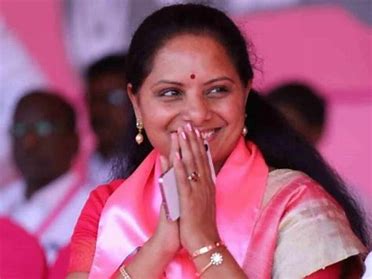 Before his scheduled visit to the state, BRS MLC K Kavitha demanded that Prime Minister Narendra Modi fulfill his promises to Telangana. She demanded that Modi elucidate the national status of the Kaleshwaram project and the establishment of a Turmeric Board in Nizamabad prior to his visit, and that the Women's Reservation Bill be implemented immediately.
On Monday, BRS activists and the general public in Nizamabad held a massive rally from the ITI grounds to the Collectorate grounds to welcome Kavitha on her first visit after the Women's Reservation Bill was enacted by the Parliament.
In her address to the group, Kavitha emphasized the importance of the BRS in advancing the Women's Reservation Bill. She stated that the BJP government, which came to power in 2014, did not take action until the BRS raised the issue. She applauded the BRS's efforts to introduce the bill in a special session of Parliament, which prompted the Congress to support it.
Kavitha criticized the Congress party's recent pledges regarding reservations for OBC women and questioned their commitment in this regard. She recalled that if the Congress had been genuine, justice would have been delivered to BC, SC, and ST women twenty years earlier. She accused the Congress of raising these issues only after losing power. In addition, she derided the Congress party's electoral pledges to implement similar programs to those currently being implemented by the BRS government.
In response to Rahul Gandhi's assertion that the Congress would gain power in Telangana, Kavitha recalled Sonia Gandhi's similar assertion from the past. She emphasized that the concentration should be on the development of all communities in the state, not on gaining power. She emphasized Chief Minister K Chandrashekhar Rao's dedication to the development of the state.
Kavitha attributed the State's economic development and increasing investments to a favorable environment, citing the nine years of law and order stability under the BRS regime. She stated that the BRS government not only promotes development, but also protects the self-respects of its citizens, as evidenced by numerous government programs. She stated that Telangana is the only state that provides pensions to beedi workers and emphasized the opportunities available to women in various positions, including market committees.