Telangana Congress Releases Manifesto: Highlights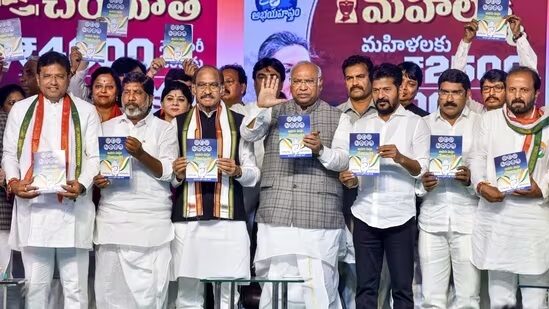 With elections in Telangana looming just over 10 days away, the Telangana Congress has unveiled its comprehensive manifesto. Some key promises include:
An Indiramma gift of Rs 1 lakh and an additional 10 grams of gold for Hindu community girls, and Rs 1,60,000 for minority girls at the time of their marriage.
Implementation of village volunteers to facilitate access to government programs, modeled after the system in Andhra Pradesh.
Clearance of pending traffic challans with a 50% discount through a one-time settlement scheme, primarily benefiting the urban population.
Provision of free electric scooters to girls above 18 studying in higher education.
Replacement of Dharani with the Bhumata portal.
Ensuring uninterrupted 24-hour power supply to farmers.
Initiating a judicial inquiry into the Kaleshwaram Project.
Commitment to filling vacant teacher posts within six months.
Providing free internet through Wi-Fi to all students.
Increased allocation to the education sector, including the establishment of four additional IIITs in the state.
Holding a Praja Darabar at the CM's office every day.
These election promises reflect the party's vision for addressing various aspects of governance and public welfare in Telangana.